So, you've finished writing your cozy mystery? You've made all the revisions you felt you needed to, so now it's time to start thinking about hiring a cozy mystery book editor. There are so many other books editors out there to choose from . . . so, why do you need a specialist?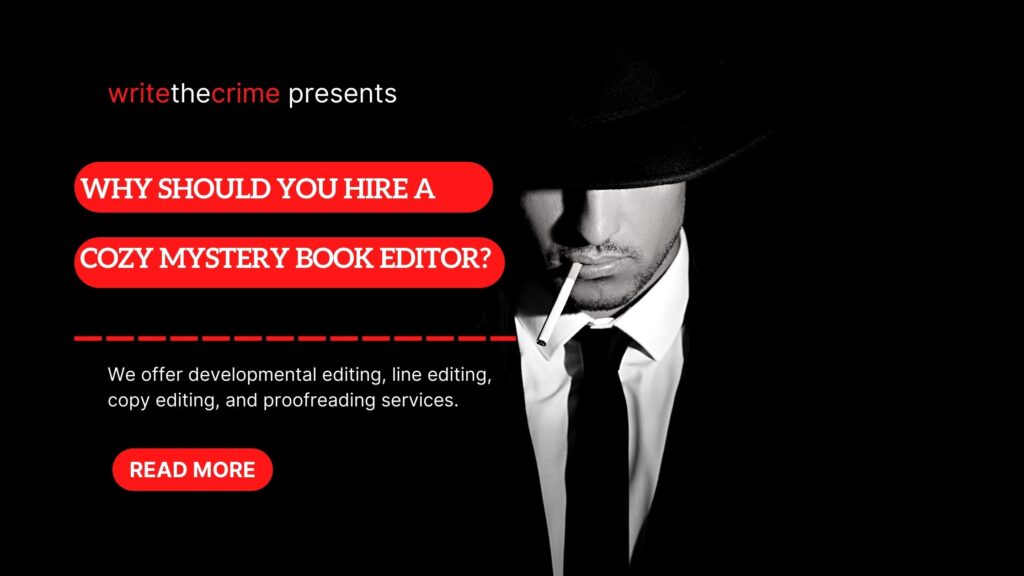 1—Hiring a cozy mystery book editor gives you an expert at your fingertips.
This concept is especially important to understand if you haven't read a lot of cozy mysteries in the past. Your readers are very particular about the stories they read, and this is why they read so many cozies—they know they can count on the same type of story they've been reading for years. It makes them feel safe—like they have arrived home and are sitting in front of a cozy fireplace.
As long as there's a mystery brewing and solved in your novel, an untrained eye might not realize that your excessive use of vulgar language and sex scenes might enrage a cozy mystery reader. Though that's an extreme example, there are many other rules and/or conventions cozy mystery readers expect that a general book editor might not realize.
2—Other book editors probably don't read widely in the cozy mystery genre.
But you know who does? Book editors who specialize in cozy mysteries!
We do this because it helps us stay current on best-selling trends—you know, those stories readers want right now. They might do an amazing job at catching plot holes or sentences that don't make sense, but what good will that do if there's nobody to back your story up who has the knowledge and experience to do so?
Is this your responsibility to know as an author? Of course it is! However, you are not perfect. You are likely to miss a thing or two, and you need somebody on your team who's got your back.
3—When you hire a cozy mystery book editor, you hire somebody who is built to love your story.
I can't speak for other editors who work primarily with cozy mystery authors, but I can speak for our company when I say:
Yes, we are 110% passionate about working with cozy mystery authors.
This shows through in all the background work we do:
We write cozy mysteries.
We research cozy mystery authors and books.
We read cozy mysteries (and thrillers and true crime).
We are writing a book about the cozy mystery genre.
We collect data every month on trends in the genre.
In other words, we live and breathe cozy mystery. This is the type of team you need on your side.
---
But let's get real now because this all sounds well and good on the surface, but are there any disadvantages?
The biggest disadvantage is that you will pay more to hire a cozy mystery book editor.
Because these types of editors spend so much time, money, and energy focusing on this genre, that comes with a higher value than a book editor who's a generalist. If you are on a small editing budget, we won't judge you for not being able to hire us, but we truly feel that if you can, hiring an editor who specializes in cozy mystery is an investment that will pay dividends for many years to come.
A book editor who specializes in cozy mystery might also be more critical of your work.
But this doesn't happen because you are a bad writer; this happens because they want to see you succeed. As professionals who are passionate about this genre, we like to build growth into authors who take their work seriously—because we take our work seriously. We put everything we've got into all our cozy mystery clients, and we leave no stones unturned in the work we do.
Want to know more about hiring a specialized book editor for your cozy mystery book? Contact us through the form below!